Triumphant Life Christian Church Dance Ministry Mission Statement
God has called on us, as vessels, to dance and minister to his people, through original creative expressions of worship & praise. We pray that the gift and the anointing, that the Holy Spirit has given us, will strengthen, encourage, deliver, and heal those who are broken-hearted and that they will be completely set free emotionally, spiritually, and physcially. We desire to build his kingdom by winning souls for him and we purpose to give him all the glory, as we minister in dance, through the beauty of his holiness.
Give unto the Lord the glory that is due His name;
Worship the Lord in the beauty of holiness.
Psalm 29:2 (NKJV)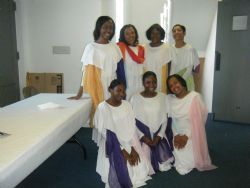 Here's a photo of TLCC's Dance Ministry
13254 Thompson Ave. Highland Park, MI 48203. 313-867-6989 (Church) 313-867-3878 (Fax)